DVD-Arabesk 5
This is the new standard for creating Blu-ray and DVD discs with the BogartSE editing software.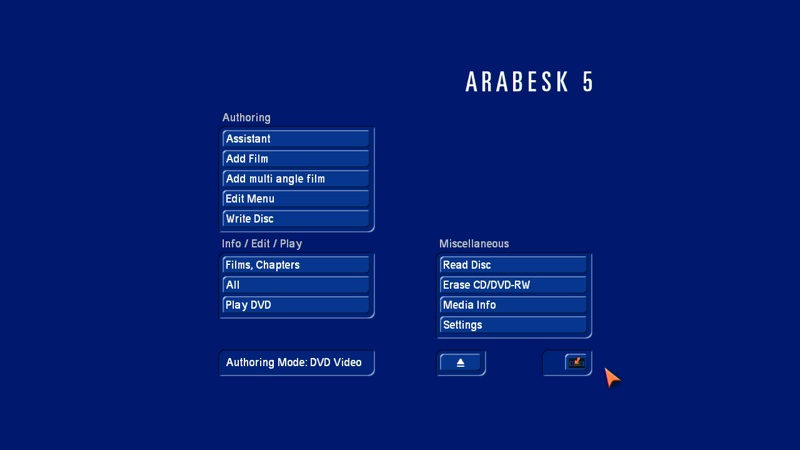 TOP NEW FEATURES

Blu-ray authoring can now make use of Chapter menus in full HD resolution (1920x1080) and use of the Assistant mode.

Adding a film in the Blu-ray authoring mode now displays the data rate mode with the bit rate in MBit/s instead of generic terms of low, medium, or high.

New button for "Factory defaults" in the Settings menu to reset to Arabesk back to default settings.

Improved image quality of Blu-ray authored discs.

When the Blu-ray authored mode is used and a disc is written, a message will now come up to tell you the burn is completed.

In the Settings menu, under "Medium", the Blu-ray 50gb (BD-DL) is available if the internal Blu-ray drive has the ability to burn a BD-DL.

There is a new set of 50 backgrounds in full HD (1920x1080) and 67 new high-resolution Arabesk buttons that can be used from the Image Pool.

Increased compatibility of burned discs with Blu-ray players.

There are several other minor addition and changes to Arabesk since the Arabesk 4 version.  Please see your Arabesk 5 manual for more details and information.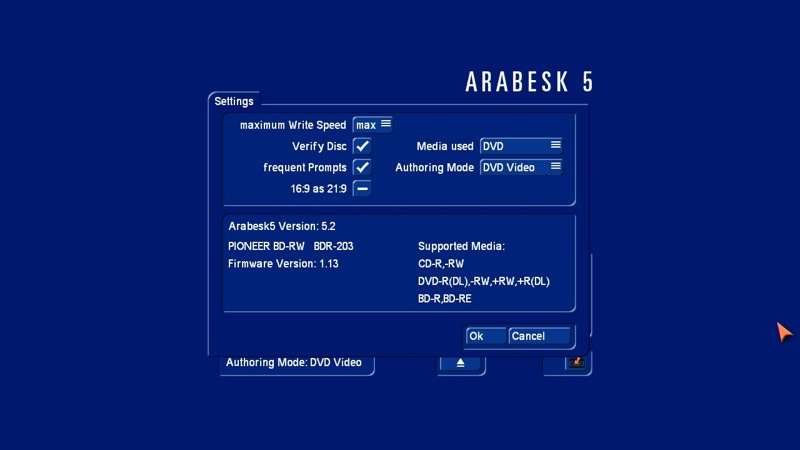 Click Here for complete Arabesk 5 Release Notes.
Click Here to download the complete Arabesk 5 User's Manual. 

Software requirements:
BOGART 4.5c