Deluxe Titler 3D 2.0 for BOGART
This 3rd party product from the company TV-Paint from France has now been modified to operate on the Bogart SE!  This Deluxe Titler 3D upgrade now includes some new design possibilities.  Texts can be provided with different shadow types.  There is also a new environment button which offers several changes the surface details with some amazing mirror or glossy textures.  As most of the program controls are similar to the original Deluxe Titler 3D for SE, the original manual on can still be referenced for general operation.   This product can also be viewed in a demo mode prior to purchase.
The Deluxe 3D Titler is a significant addition to the standard Casablanca titler. With this software, you can create complex 3D titles that move in an arbitrary pattern. The high quality and smooth movements are truly impressive. Looping, letters flying towards the viewer and any form of rotation amount to a very creative titling package.
Creating titles is based on the existing font packages and allows for multiple settings. Apart from the usual format settings, there are light sources and 3D intensity. The font can be adapted with any colour and "clothed" with available textures from the Image Pool.
Simply define the movement with the "Pre-Motion Mode" which gives excellent and fast control with just a few parameters. The results are fascinating. Alternatively, using "Free Motion", the movement can be defined totally independently.
The Deluxe 3D Titler is a remarkable product that gives the power to create impressive title effects. A `must-haveŽ for any ambitious Casablanca user.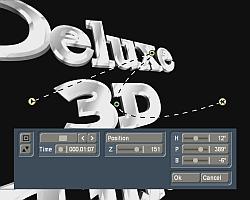 Create your individual title effects or modify pre-defined motion paths.
Watch a videoclip for Deluxe-Titler 3D (7,1 MB, Quicktime format)
A printed manual is available for this product.
Software requirements:
Bogart 2.4c or higher