The Casablanca Bluebox effect has got you interested? Then "Bluebox World" is just the right product for you. A broad range of newly developed effects opens up a whole new world of possibilities.
Compared with the classic Bluebox effect, you can now select the area to be masked by way of its color, shade of color, brightness or saturation. Even black is supported as a mask color (super-black).
The faded in objects can be can be given a transparent appearance, you can add an aura to them or place a shadow behind them. Special fade-ins and fade-outs are also possible so you can make people or objects appear or disappear with great effect.
You can also change selected colors and therefore do such things as make a green shirt turn blue. Or what about those advertisements that you may have seen in which everything turns black and white except for one color? That is no problem at all for "Bluebox World".
Additional applications which you can use to mask, move or copy objects round off the package and make it a real must for every Bluebox artist.
Select certain colors (Chromakey), shades of color or brightness values (Lumakey) to be replaced by another video scene and thus create amazing Bluebox effects.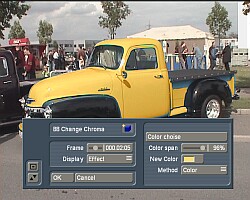 Change the color of the automobile or separate colors.
A printed manual is available for this product.
(This program can't be used in VGA-one monitor mode.)
Software requirements:
SMART EDIT 2.0